Features

---
Service to create web forms that store data directly in Kintone.
Want to create an application form on my website.
Want to conduct an anonymous survey in the office.
Want to get sales staff to register their reports.

---
Service to create web pages using data on kintone.
Want to share information with all employees without incurring licensing costs.
Want to create an information page disclosed only to business partners.
Want to share graphs created in Kintone externally.

---
Service to create PDF reports and forms using data on Kintone.
Want to batch print the invoices you send every month.
Want to nicely print sales reports with graphs.
Want to print an application form with a QR code for seminar applicants.
More Convenient Uses
You can build business systems like:
Estimate Preparation System
By combining
PrintCreator
, a report/form output service, and
FormBridge
, a web form service, you can build an estimate preparation system that allows business partners to create and download PDF files.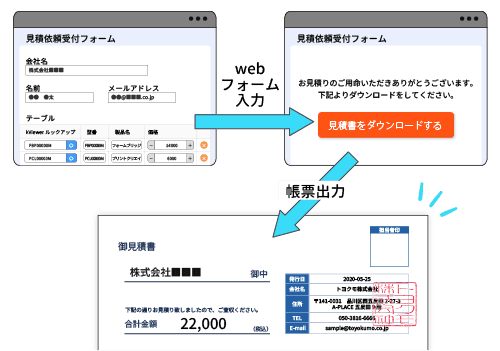 Booking Calendar
By combining
FormBridge
, a web form service, and
kViewer
, a web form service, you can build a booking system that allows members to select dates on the calendar and make reservations.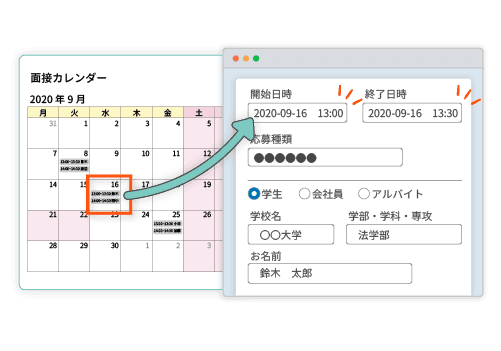 Daily Work Report System
By combining
FormBridge
, a web form service, and
kViewer
, an external sharing service, you can build a daily work report system that can be entered by workers using a smartphone, even at sites where computers are not available.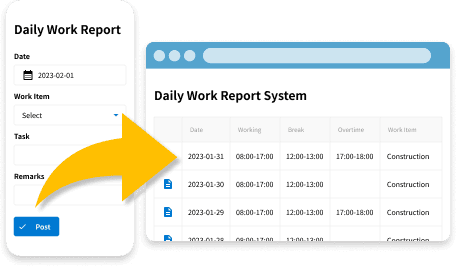 User Page provides secure and centralized access to your business systems.
You can build a portal site to centralize access to the business systems listed above while managing users.
Case Studies
Easily build systems that meet on-site requirements
In the past, it took a lot of time and effort to create a single web form, but now it is easy to create good-looking web forms, and they are used for a wide variety of tasks.
Quickly build a reservation system without coding
The other reservation system we were using didn't meet our requirements and we needed to either find a new system or build one ourselves. The request came at a time when the deadline was about a month away.
Provide inexpensive service through low-cost operations
In the past, there were multiple departmental points of contact: the call center would respond to the customer, pass that information on to the repair center, and from there the repair person would repair the equipment.
Extension
Course
Price
FormBridge
Premium
¥248,000
Professional
¥398,000
kViewer
Premium
¥248,000
Professional
¥398,000
PrintCreator
Premium
¥248,000